The name of this Thai dish is certainly a mouthful but it is delicious! I ate it almost everyday while I was in Chiang Mai at a little strip mall down the street from our Air BnB. But I first discovered it in Siem Reap, Cambodia. There is a lot of overlap between these two cultures, and this is one of those pleasant intersections I hope you will experience.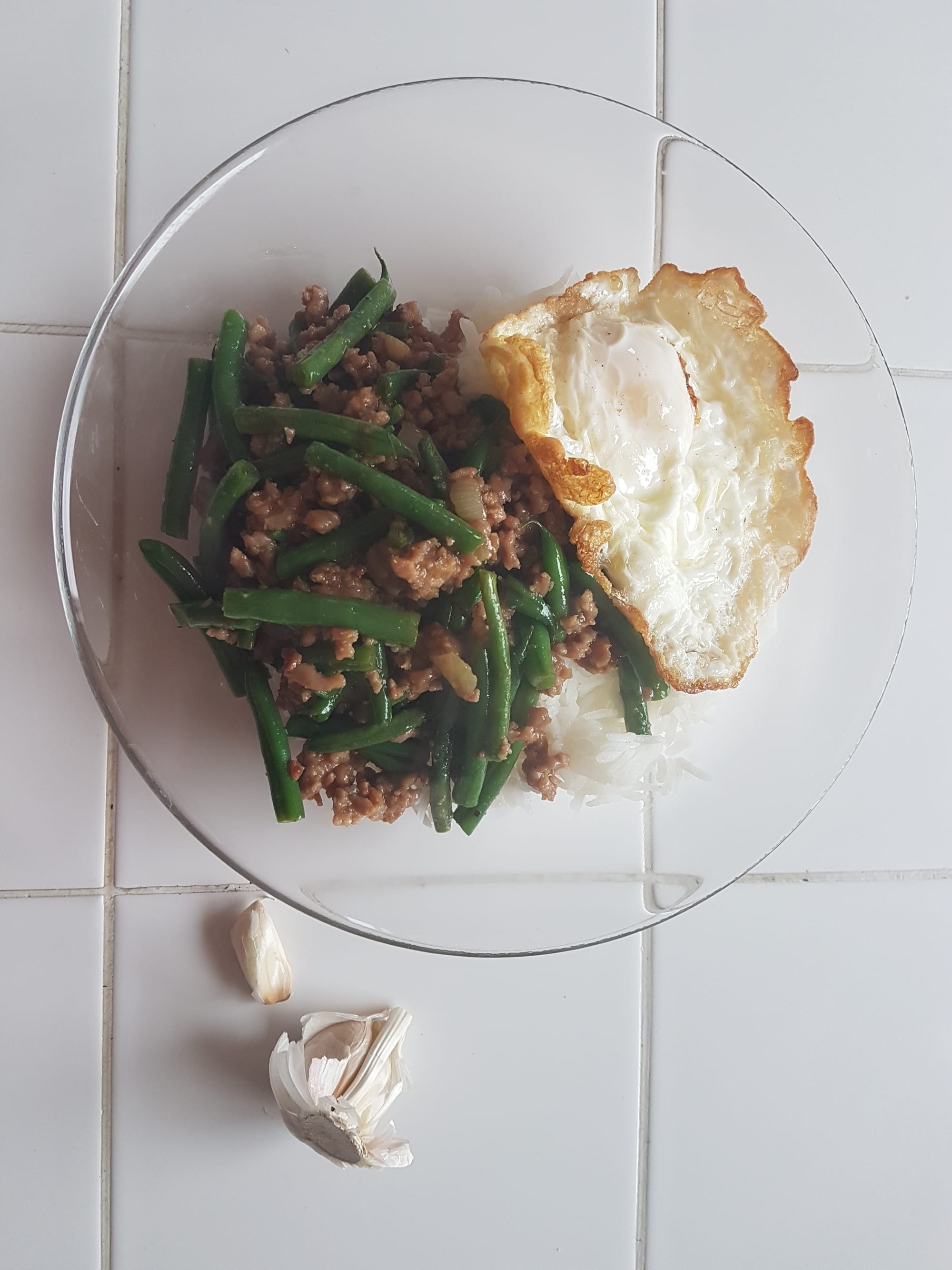 Marinade for 2 pounds of Ground Medium Pork
2 tbsp sugar
1/2 tsp salt
1/2 tsp garlic powder
2 tbsp soy sauce
2 tbsp oyster sauce
1 tbsp fish sauce
1/4 tsp red chili flakes
1 tsp sesame seed oil
Mix this marinade together until the sugar is dissolved. Add 2 pounds of ground pork and encorporate well. Sprinkle 1 tbsp cornstarch over the meat. Mix until no lumps of cornstarch are visible. Let marinated meat rest for at least 5 minutes.
Prepare the aromatics and vegetables
1/2 cup diced onion
2 cloves garlic, minced
handful of Thai Holy Basil, or fresh Italian Basil, coarsely chopped
2 pounds of green beans, such as french beans or long green beans. Wash, trim and cut into 1" pieces
Prepare a large skillet on high heat with 3 tbsp vegetable oil.
Fry onions and garlic in oil for 2 min. Don't let the garlic burn! Turn down the heat to medium high if necessary.
Add marinated pork mixture. Fry and stir quickly until the pink is no longer pink. You may need to turn the heat up to max again. The key is to keep the meat and onion mixture moving quickly in the pan.
Add your green beans. Continue to stir fry.
If the mixture seems a little dry, add 1/4 cup of water. Place cover over the skillet and continue to cook until great plumes of steam come up from the pan, about 5 minutes.
Uncover your pot. Add 2 tbsp oyster sauce and 1 tbsp soy sauce, and also the chopped basil. Mix well.
Serve the stir fry over rice, and if you like, a sunny side egg on top.
My hubby likes it with a big squirt of Sriracha sauce on top (that's chili and garlic heaven in a bottle).